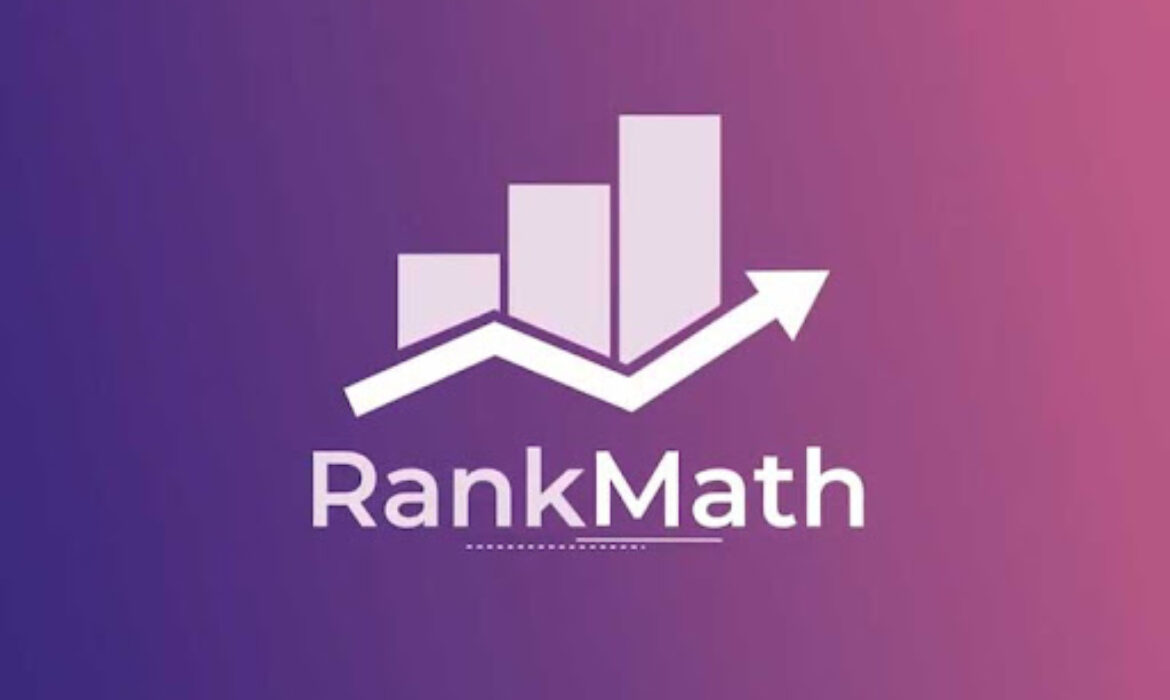 WordPress on-page SEO has never been so easy until the invention of the most powerful, yet cheapest and evolutionary on-page SEO plugin called Rank math in Nov 2018. 
Rank Math is the most complete SEO plugin offering numerous features ranging from on-page SEO and content analysis (a feature that helps you to write better-optimized contents on your website), site analysis and technical audit, advanced Google analytics reports, the most powerful schema generator, keyword rank tracking, ability to import schema from any website, Google trends integration, Woocommerce SEO, local SEO, Google News SEO, and several other schema types.
The invention of this free SEO tool is a total revolution in the WordPress SEO world, with this plugin, SEO can be achieved within a few clicks empowering your site to perform better if other ranking conditions are met.
Before the release of the Rank Math plugin in 2018, on-page SEO was particularly a big task due to the huge amount of money required to buy and maintain an SEO plugin for your website, this is one reason why Rank Math is not comparable to any other SEO plugin, it beats them all by far.
Unlike Yoast SEO and other SEO plugins where users have to pay huge separate prices for Image SEO, News SEO, Local SEO, Video SEO, & Woocommerce SEO, the Rank math plugin is a combination of these features and many more powerful features like the ability to track keyword rankings, tracking top 5 winning and losing pages and keywords, track SEO performance of individual posts, advanced Google analytics integration and many more awesome features, all in one product.
One other major plus of Rank math is that it is the fastest SEO plugin, the plugin was developed with speed in mind, giving your website an edge on technical SEO as it does not interfere with your website speed or cause any form of delay.
This tool helps you to scale your website traffic easily without breaking the bank.
WordPress SEO Plugins Checklist: How to Choose the Best SEO Plugin for your Website
When choosing WordPress SEO plugins, there are many factors to consider in other to make make the most of your new plugin. On-page SEO is a very significant aspect of ranking and thus the need for SEO plugins can only get higher.
Here is a list of the top factors to consider when choosing WordPress SEO plugins;
Nature of business
Cost and sustainability
Compatibility with CMS
Speed related issues
Security and vulnerability
Usability and Effectiveness
Customer support
#1 Nature of Business
There are different business types and thus different optimization needs, for example, an eCommerce business owner would have a stronger need for a Woocommerce SEO plugin than any others such as news and video SEO plugin. Sometimes they may not even need the others entirely except a content analysis plugin to help them write better blog posts.
Other businesses like blogging may have zero need for a Woocommerce SEO plugin and may only require a content analysis plugin to help them write and publish better optimized content on their blogs.
Before you make the decision to choose a WordPress SEO plugin, it is essential to first determine your business needs, this is because different plugins like local SEO, Video SEO, News SEO and Woocommerce SEO may serve different purposes, it wouldn't make any sense to purchase a Woocommerce SEO plugin if you're a blogger.
#2 Cost and Sustainability
Cost is another major factor to consider before you choose a WordPress SEO plugin for your business, for startups and new bloggers who have no funds to sustain the cost of paying for WordPress SEO plugins like Yoast and other expensive ones, a free tool like Rank Math free maybe the solution to all you need.
It is important to weigh carefully, the cost and sustainability of any different WordPress SEO plugins before choosing any due to the fact that some cost thousands of dollars to maintain and keep every year.
If your business is still growing, go for the most powerful yet free and cheapest option – RANK MATH.
#3 Compatibility with your Theme and WordPress Version
As a developer, one of the things I've had to deal with helping businesses grow is fixing broken websites. Ever installed a plugin and your website got broken? This is quite common if you're a new WordPress user and to avoid dealing with a broken website, it is crucial to determine plugin compatibility with your theme and WordPress version before making a choice.
#4 Speed and Loading issues
One negative effect of some plugins is that they slow down your website, this was common with most Elementor users.
The major reason why plugins slow down your site is due to their interaction with servers, media, third party scripts, other plugins and many other factors including caching when loading your website.
When choosing a plugin, ensure that it does not slow down your website in any form.
The fastest and top-rated WordPress SEO plugin is Rank Math.
Download it here!
#5 Security and Vulnerability
Would you like to wake up one day and your precious website is gone forever?
The most vulnerable source of hacking your website is through your plugins and theme. That is the easiest way hackers get into WordPress websites.
A Major advantage of Rank Math SEO plugin over others is that it is secure, fast, trusted, and does not cause any security issues.
When choosing your WordPress SEO plugin, go for the most secure, simple and accurate – Rank math.
#6 Usability and Effectiveness
Ever paid for a tool only to find out that it is impossible to use?
This is a common experience among many online marketers, there are certain SEO plugins that are very difficult to use, to get the best out of them will require you to take loads of courses, adding extra expenses to the already high cost of purchase.
Here are a few Rank Math Reviews on Usability and Effectiveness available on Producthunt;
#7 Customer Support
According to Rank Math users, Rank Math possesses the best customer support system, their support includes both ticket support where all your direct website issues are tackled as well as a dedicated Facebook group that helps you with issues regarding your website and Rank Math and several other SEO related issues.
In the Facebook community, several other SEOs get the chance to share opinions about a particular topic or subject and offer suggestions for improvement.
Why is Rank Math the best WordPress SEO Plugin? Main Features of Rank Math SEO plugin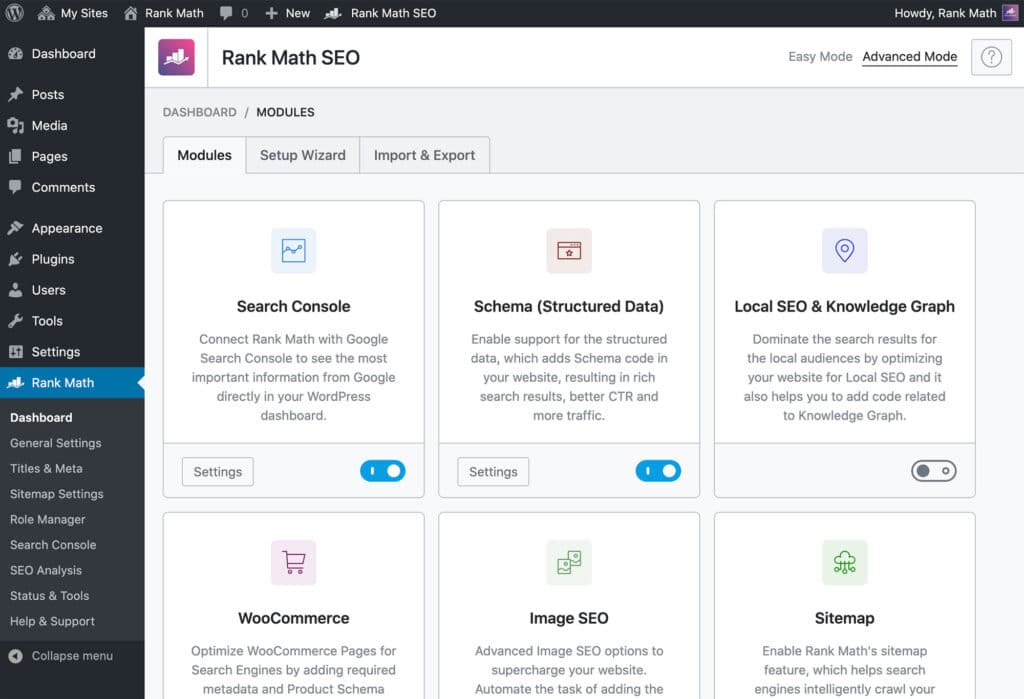 Rank Math stands as the most powerful all-in-one SEO plugin for WordPress, allowing users access to several other SEO features without needing any extra plugins.
If you are using other plugins like Yoast, you may need to separately acquire different SEO plugins for different purposes such as local SEO, Video SEO, Google News SEO, Image SEO, Woocommerce SEO, etc. with Rank Math, all these features come in one very powerful plugin.
Here is a list of 32 main reasons (features) that make this plugin the best WordPress SEO plugin in the market:
Price ($59) for all features
Advanced Google Analytics integration
Keyword rank tracker
Most advanced schema generator
Import schema from any website
Google trends integration
Google News SEO sitemap
Google Video SEO sitemap
Image SEO
Local SEO with multiple locations
Woocommerce SEO
Automatic video detection for video schema
Track top 5 winning keywords
Check ranking keywords for each post
Position history for keywords and posts
Validate schema with Google
Custom schema builder
404 error tracking
301 links redirections
840+ schema types supported
Watermarked social media images
Advanced bulk edit option
Import SEO data via CSV file
Detect orphan pages
Track SEO performance of individual posts
Automate image captions
Exclusive Facebook club
Advanced technical SEO
Fastest SEO plugin
One click automatic updates
SEO and schema automation
Rank Tracker
Content AI
Dedicated support
Would you like to get the most complete and powerful SEO Plugin on the market?
Why Choose Rank Math? Top 10 Reasons Why You Must Use Rank Math Now
There are many SEO and cost implications why you should choose Rank Math SEO plugin over any other plugin;
#1 Google analytics integration
One of the best ways to track your website performance is by using analytics tools to track and measure visitors' interactions on your website. Such information gives you options for improvement.
A lot of people try to avoid Google analytics due to the fact that it slows down your website thereby giving users your competitors' speed advantage.
With the recent integration of Advanced Google Analytics, this tool tracks your website data and thus you do not need extra analytics plugins for your website success.
#2 Affordability
Even with the richest feature list as an SEO plugin, Rank Math tops the list as the most affordable WordPress SEO plugin in the market.
The tool is an all-in-one plugin that allows you access to its rich features including over 840 schema types, local SEO, News SEO sitemaps, Video SEO sitemaps, image SEO and many other features that come separately when you use other SEO plugins like Yoast and SEOPRESS.
This tool stands as the best option for small businesses due to its extremely low price. Currently, it is priced at $59 for all its rich feature list, the cheapest in the market. See the image comparison below:
#3 Site Performance Analysis and Tracking
With Rank Math, your site performance metrics are right at your fingertips, everything you need including keyword tracking, post tracking and performance analysis.
It has a keyword and post tracker that keeps you updated on your posts and keywords performance over time.
The tools give you information on your top winning posts and keywords as well as the losing keywords and posts giving you tips on how to improve your articles for better performance and also reducing extra expenses on all tracking tools like Semrush, rank tracker and many others that cost hundreds and thousands of dollars every year to keep.
Overall tracked metrics include;
SEO performance of individual posts
Top 5 winning keywords and posts
Top 5 losing keywords and posts
Click through rates
Clicks
Search impression
Keyword position & many more
#4 404 Monitor and Redirections
The 404 monitor is a tool that helps you keep track of all broken links on your website. Broken links or dead links are among the major causes of bad user experience and degraded trust. If you're a Rank Math SEO plugin user, it is easy to understand how to fix 404 error on your website as the tool helps you achieve this in a few clicks even if you have zero technical experience.
Keeping a good record of broken links helps you to create or redirect such urls to the proper or most recent page to reduce 404 error counts.
Mostly, redirections are achieved using a separate redirection plugin but with the invention of Rank Math, all url redirections can be carried out in the same plugin.
Rank Math allows you to effortlessly monitor 404 errors on your website and redirect all pages to the appropriate and existing pages to reduce 404 error count which may negatively impact your SEO strategy.
#5 Content Analysis
Ever heard that content is king? Quality and unique contents are among the major ranking factors but how can one produce or write high quality or converting content? There are several ways to achieve this; ensuring a good mix of your target keywords in your while avoiding all forms of keyword stuffing, using a good title that improves CTR, monitoring keyword density, ensuring good content readability, and other factors.
This WordPress SEO plugin allows you to effortlessly create and optimize better content than your competitors, giving you an advantage on SERP performance.
The plugin gives you an in-depth analysis of your content giving you several other suggestions for improvements.
#6 Technical SEO Analysis
Website speed is a major ranking factor, there is a high bounce rate report for websites that are extremely slow, searchers often abandon slow websites.
Imagine visiting a website that takes over 3 minutes to load, it is only normal to abandon such sites and go for their competitors.
Slow websites increase bad user experience that also directly increases your bounce rates and decrease in relevance.
This complete SEO tool gives you an in-depth analysis of your website properly identifying all major causes of bad speed and suggesting actions that can be taken to improve your web core vitals and overall site performance.
It provides this data in just a single-click audit process and provides reports that are straight to the point and easy to understand.
With this tool, there will be no need for further technical SEO audit tool
To access this feature, click on rank math on your admin dashboard > SEO analysis.
#7 Sitemaps generation
Sitemaps are custom codes that contain crawl instructions on your website. They tell search engine bots the pages on your website that can be crawled as well as the new changes on such pages as content updates, new pages and more.
With the Rank Math plugin, it is extremely easy to create a sitemap in just a few clicks. The tool gives you access to different sitemaps including; Google News site
Rank math allows you to generate sitemaps for your posts, local SEO, video SEO, Google news SEO, Woocommerce SEO and even pages with just a single click.
Using this plugin, no technical SEO or coding skills are required, just a click and all is effortlessly generated for you to copy and submit to Google search console for indexing.
To access this feature, log in to your WordPress dashboard > Rank Math > Sitemap setting >Post type or any sitemap type you want to generate > Copy the sitemap link and submit to Google search console or Bing webmaster
#8. Redirection
Dealing with 404 errors is a major concern for all website owners. These errors occur as a result of removed pages, broken links, misspellings and other factors. The best way to deal with 404 eros on a website is to redirect the 404 error page to the new page on the website especially when the page was deleted.
Rank Math makes redirection seamless in WordPress, users can easily redirect old and deleted pages to the most recent version. The plugin also helps to keep track of all 404 error hits on your website. To do this, simply navigate to Rank Math dashboard > redirections and then create a new redirection, Click on add redirection to save changes. Remember to enable the module if you have not already done so. Go to general settings to enable the redirection module. 
If you desire to learn how to get more website traffic and get more traffic than your competitors, understanding how to utilize Rank Math on-page SEO plugin can be crucial to your growth.
#9. Content AI
Ever used Surfer SEO? Rank Math's content AI feature is an alternative to Surfer SEO. The tool is useful for the proper optimisation of articles and pages. It searches Google to obtain the content structure of similar contents and other important information from already ranking web pages such as the number of images used, number of internal and external links, length of article and other important information. This feature is very useful for producing concise articles and implementing other on-page SEO elements.
#10. Instant Indexing
Rank Math instant indexing makes it one of the first WordPress plugins to integrate the instant indexing feature. This feature is very useful for quickly indexing your articles and new pages. With this tool, users can submit new urls to search engines. New changes to existing pages are also instantly sent to the search engines.
During the period when people were battling with crawled, currently not indexed messages in Search Console, users of the Rank Math Instant Indexing feature were all cruising with fast and easy indexing of their new pages. It is easy to set up. Navigate to the dashboard and turn on the instant indexing module, complete the settings and save changes. New urls can also be submitted for instant indexing on search engines.
Click here to download Rank Math Now!
Conclusion
Rank Math SEO plugin is a powerful tool that can help you to improve your website's on-page SEO. Rank Math uses mathematical formulas to analyze your website's content, structure, and on-page optimization and provides you with detailed reports that will help you to improve your website's SEO. If you're searching for one of the best free SEO tools to grow and manage your website traffic, consider Rank Math as one of the tops on your list.
The Rank Math SEO plugin is available as a free and premium version. The free version offers limited features, while the premium version offers more features and includes support for Google Analytics. The premium version also offers more support for content AI and rank tracker.
The Rank Math SEO plugin is easy to use and can be installed in minutes. Once installed, you can start using it to analyze your website's content, structure, and on-page optimization. The Rank Math SEO plugin also offers a user forum for support and feedback on Facebook.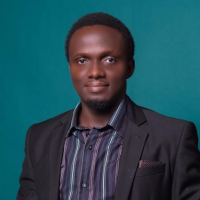 Enema OJ
Hi there! I'm a business growth and digital marketing consultant who specializes in helping businesses make more profits through better online visibility and reach.

I understand the importance of a good and well tailored digital strategy and will use my creativity and expertise to create compelling, informative pieces that will help you achieve your business goals.

Practicing SEO and digital marketing actively for over 7 years has taught me what the lifeblood of every business is and how to keep its foundation juicy. If you desire to increase your brand visibility, generate more traffic and increase your sales and conversion, I'm the one you're looking for.